Meadow Walk Invisalign Open Day
See your predicted smile before your treatment begins!
on Invisalign Packages at our Invisalign Open Day
free digital view of how your teeth would benefit from Invisalign
free first set of retainers worth £395
free tooth whitening worth £395
A deposit of £500 required on the day if you wish to go ahead to qualify for the discounts.
Payment plans available (subject to terms and conditions)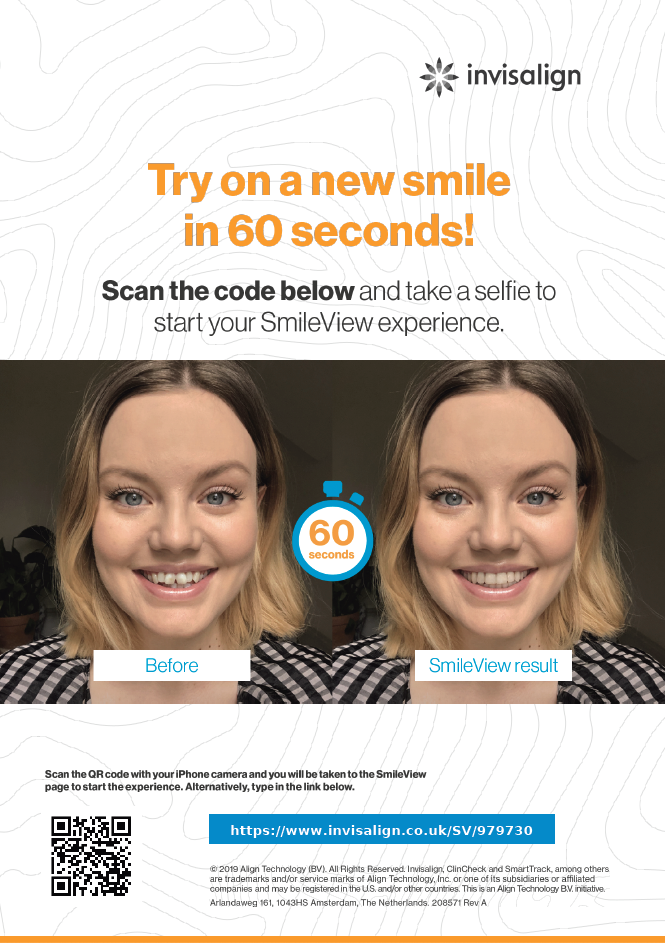 Meadow Walk Dental Practice are delighted to be hosting a special open day for all patients considering Invisalign dental realignment treatment.
Although patients are welcome to come for an Invisalign consultation whenever they would like, we are delighted to be offering a unique opportunity on 27th May. Whilst initial consultations usually involve a follow-up appointment to view your digital image of your post-treatment teeth, on our exclusive Open Day there will be no need to wait.
Thanks to the advanced technology available courtesy of Invisalign, we will be able to produce your ClinCheck (your personalised 3D video showing how your teeth will change through Invisalign treatment) during your appointment. So instead of waiting for the next appointment, you will be able to make an informed decision quicker and get on the road to a straighter, happier smile.
So what are you waiting for? Book your free appointment for our Invisalign Open Day today!
What is Invisalign?
Research has shown that a beautiful new smile increases self-esteem, improves confidence and results in a brighter, happier you. Unlike traditional dental alignment treatments (braces), with Invisalign discovering the new you is easier and less obtrusive than you think.
Invisalign treatment has been developed by leading dentists and consists of a series of nearly invisible, removable aligners that are custom made just for you based on the alignment you need. As you progress though the series of each aligners your teeth will move – little by little, week by week – until they have straightened to the final position envisaged by your dentist.
The Invisalign removable aligners are comfortable, removable and nearly invisible; creating your brand new smile is easier and more convenient than ever before.
What will my teeth look like?
Being able to see the movements that your teeth will go through, as well as a digitised image of the end result, is what many patients find attractive about Invisalign.
ClinCheck, unique to Invisalign is a short 3D animated video that allows you to see your predicted Invisalign treatment result before you even begin the treatment process. A smile evaluation with an Invisalign provider is the first step of the Invisalign journey and it's where you'll be able to see your own personalised ClinCheck. As part of our Open Day we will be able to show you your bespoke ClinCheck as part of your free appointment.
A digital scan will be taken of your teeth using our specialist, non-invasive equipment. This will then be used to create your very own ClinCheck to show the movements that your teeth will make during the Invisalign process to give you the brand new smile that you've always dreamed of.
Invisalign's intelligent smile software will be able to show you what your new smile will look like before you even begin treatment. This means you can make an informed decision on whether Invisalign is the right type of treatment for you.
Book your free appointment at our Open Day to see how Invisalign could give you the smile you've always longed for!
How is my treatment unique for me?
Right from the digital scan we take at your first appointment, each aligner is individually manufactured for your teeth, and your teeth only. The series of aligners produced will be tailored to the subtle changes your teeth need to make each week in order to align to the position your dentist has prescribed.
Your Invisalign aligners can be removed to eat, drink and clean your teeth. You can even remove them for special occasions, such as a job interview or party – not that you'll need to as you'll be amazed how few people notice you're wearing them!
What will the Invisalign treatment be like?
Invisalign is so effective that we are confident you'll begin enjoying the benefits of your new smile from the moment you start your treatment. Unlike traditional expectation of dental alignments, there are no metal wires or brackets with Invisalign treatment; this makes them incredibly comfortable to wear. You may experience some minor discomfort at the beginning of each new stage of treatment but this will wear off quickly. And Invisalign aligners are virtually invisible so creating your new smile can be your own little secret.
Invisalign has been proven to treat a huge range of straightening requirements, ranging from very minor tooth movements to much more complex cases. Book into our Invisalign Open Day for your free consultation to find out if Invisalign is right for you.
Why should I chose Meadow Walk Dental Practice for my Invisalign?
Here at Meadow Walk Dental Practice, we are passionate about giving our patients the best care possible. We always take the time to get to know our patients and to listen to any concerns you may have. We will make sure that you are fully informed of every step along the journey to the smile you've always wanted. Our friendly, experienced and dedicated team have years of experience working with Invisalign and are passionate about helping you to improve your happiness and self-confidence with a brighter, straighter smile.
The Meadow Walk team understand that some people feel anxious about visiting the dentist – we specialise in caring for patients just like you. But don't take our word for it, see what our patients say:
Get in touch with our team today to book your free Invisalign consultation on 9th April at our exclusive Open Day!